The CMU Health difference
CMU College of Medicine celebrates successful Match Day 2021
by Sanjna Jassi
On March 19, Central Michigan University College of Medicine students joined their peers worldwide in opening emails containing the names of the residency programs in which they will spend the next three to seven years of their lives.
At noon on March 19, Central Michigan University College of Medicine students joined their peers worldwide in opening emails containing the names of the residency programs in which they will spend the next three to seven years of their lives.
The event, known as Match Day, happens each March. Thousands of fourth-year medical students across the United States and around the globe learn where they will continue their training as physicians.
"We're proud of our how well our students matched this year," said Tina Thompson, senior associate dean of academic affairs at the CMU College of Medicine. "They completed medical school during a pandemic, they volunteered their time in testing and vaccination clinics, and they proved themselves to be highly resilient. Some of most prestigious programs in the country chose them to join their ranks."
Nearly half the class — 47% — will remain in Michigan. Five students matched with the CMU Medical Education Partners residency programs in Saginaw, and three students matched to CMU's branch campus at Ascension St. John Hospital in Detroit.
In all, 90 students from the College of Medicine participated in the match process this year. Sixty-one percent of CMU medical students matched to primary care residencies ― internal medicine, family medicine, pediatrics, combined internal medicine and pediatrics, psychology, obstetrics and general surgery ― fulfilling the college's mission to train culturally competent physicians to provide health care to underserved populations in Michigan and beyond.
Read some of our students' match stories:
Rita Asuquo
A random, one-week change in her academic schedule shifted the course of Rita Asuquo's medical career, demonstrating the immense value of hands-on learning. In June, Asuquo will begin her anesthesiology residency at Yale.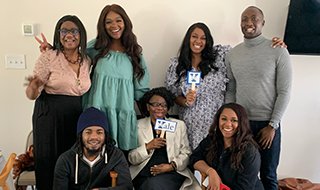 Asuquo came to the CMU College of Medicine to study oncology. The welcoming and caring experience of her interview overrode the concerns the Texan, who did her undergraduate work in North Carolina, had about Michigan winters.

"It's been a surprising journey," Asuquo said. "I thought I wanted to do something with hematology oncology; I had a research grant from Baylor, and I was presenting research at national conferences."
Then, three years into medical school, as she was doing her clinical rotations at Lakeland Hospital in St. Joseph, Michigan, her scheduled rotations changed the course of her life. In addition to required clinical rotations, she had an opportunity to learn other specialties, including anesthesiology.
Asuquo arrived an hour early on her first day of the rotation, and the nurses put her to work helping with pre-op IVs. By the end of her first day, she had intubated and assisted with her first spinal block. That night, she considered a career in anesthesiology for the first time. Despite the COVID-19 pandemic, she was able to change her fourth-year rotation schedule and complete eight weeks of clinical experience in her new field.
"It's crazy. In one week, I knew it was the field for me, where I want to spend the rest of my career," Asuquo said. "What if I had not had this random schedule? It seemed as if everything aligned perfectly."
Another chance meeting led her from Michigan to Connecticut.
"I signed up for an opportunity to do virtual case planning to prepare for her upcoming rotation, and I ended up meeting the Yale anesthesiology program director," Asuquo said. "When choosing a program, I was asking 'are they putting the residents first, are we growing?'"
She had not thought of applying to Yale, but the program director impressed her. "I want to be the best anesthesiologist I can be."
Throughout her journey, the lessons of the pandemic remain constant.
"The health of the population is the most important," Asuquo said. "All the people you interact with impact your health. Everyone matters. Everyone needs access to healthcare."
Ryan Guthrie
For Ryan Guthrie, the path to medical college was somewhat bumpy, much like Michigan's back-country trails where he and his wife Jentri spend much of their free time. Guthrie came to the CMU College of Medicine from Texas.
Medical school is highly competitive. Nationwide, nearly half of applicants are not accepted to any medical schools during their first try. This was the case for Guthrie, more than once, yet he was undaunted. He expanded his search and found an intriguing medical college located in a state he knew nothing about ― Michigan.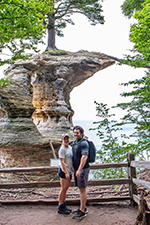 Guthrie was originally attracted to the CMU College of Medicine because he thought, as a relatively new school, it would have the flexibility to be responsive to the needs of students.

"I also liked that because it was new, I thought it would be cool to be part of building the reputation that CMU produces good docs," he said.

A hunting and fishing enthusiast, he quickly fell in love with the natural attributes of the region.

"We are super glad we came to Michigan," Guthrie said. "It's so pretty, and it's perfect for what we like doing. You can go to the same park in four seasons and have four different experiences."
When the time came to rank residency programs, the CMU College of Medicine's program in Saginaw was high on the list. He begins his emergency medicine residency there in mid-June.
He chose emergency medicine because he enjoys shift work and the many career opportunities available to ER physicians.
"No two days are the same," he said, "and you have to be ready at any time, It's exciting."
In the long-term, Guthrie imagines traveling to different areas of the country to work as a traveling ER doctor. Whatever path he chooses, Guthrie will be well prepared to provide competent and compassionate care.
"While you don't have the long-term relationships with patients like some other specialties … you still have time to talk with patients and comfort them during what may be one of the worst days of their lives."
Dorothy Yu
Dorothy Yu grew up in the Detroit area and always wanted to serve her community and home state. She came to the CMU College of Medicine after experiencing the sense of community during her campus interview.
"I am grateful. The faculty and staff have been supportive ― there was always someone there for me," Yu said. "They are such good mentors, and they guided me towards the path of becoming the best physician I can be."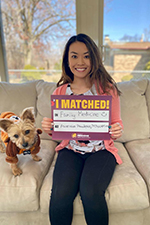 Family medicine excites Yu for many reasons. In addition to building authentic relationships with patients, Yu appreciates the role of advocate for her patients.

"I can take a preventative and proactive approach toward patients," she said. "And there is so much variety. Every day is a mini-surprise, and I get to learn something new. There is never a dull moment."

Yu matched to the family medicine program at Ascension Providence Hospital in Southfield, Michigan. Located close to the home she shares with her husband, two cats and a dog, Ascension Providence offered her what she needed to learn and succeed.

"My patients will come from different cultures and backgrounds," Yu said. "Ascension Providence provides me with the opportunity to learn complementary and alternative medicine, allowing me to see and treat my patients holistically. At the end of the day, you want your patients to trust you. I want to build a genuine relationship with all my patients."
She also brings with her something medical school and the pandemic taught her about herself.
"We were scared of the unknown … I learned the importance of mental, physical and emotional wellness, and I will be bringing that forward to my patients."