The CMU Health difference
CMU Health opens new Women and Children's Center in the Great Lakes Bay Region
by Aaron Mills
CMU Health is continuing its commitment to providing high-quality health care close to home with its Women and Children's Center at 1000 Houghton Avenue on the Covenant campus in Saginaw, just one block from the CMU College of Medicine's Education Building. Although the space previously had the clinicians, support staff, and equipment necessary to provide the highest quality care, the newly renovated space, with its themed wall coverings for both children and adults, local artwork, dedicated CenteringPregnancy and CenteringParenting space, and completely renovated first floor are sure to bring a smile to the CMU Health patients regardless of their age.

With the extra patient-care space, the Center will allow women and children from all areas of central and northern Michigan access to a comprehensive care facility. Pediatricians, obstetricians, and other specialists will serve children from birth through adolescence and women of all ages, including well visits, family planning, prenatal care and delivery, and perimenopause.

The Center offers the following comprehensive services:
Comfortable private exam rooms.
An advanced healthcare team made up of Faculty from the CMU College of Medicine and resident physicians specializing in OB/GYN and pediatrics.
Lactation/Breast Feeding Support.
Pediatric Asthma and Complex Care Clinics.
Immediate access to Covenant Healthcare emergency services, diagnostic tests, and inpatient care.
CenteringPregnancy and CenteringParenting programs providing group-based education and patient care with proven improved outcomes.
Specialists in rheumatology, endocrinology, and genetics.

The enhancements were made possible by generous gifts from The Eddy Foundation ($1.5 million), the Wickes Foundation ($1.5 million), and the McNally and Andersen foundations whose donations supported building improvements and programming. Programming and significant in-kind donations by Covenant HealthCare and Ascension St. Mary's also made this project possible.

This is the future of health care for women and children.

"The CMU Health Women and Children's Center is another excellent example of the positive impact that Central Michigan University is making on the Great Lakes Bay region," said Dr. George E. Kikano, CMU vice president for health affairs and dean of the CMU College of Medicine. "CMU's continued partnership with Covenant Healthcare and Ascension St. Mary's, and sponsorship of the academic programs that make the Center possible, will help to ensure that even the youngest among us have access to the best care possible."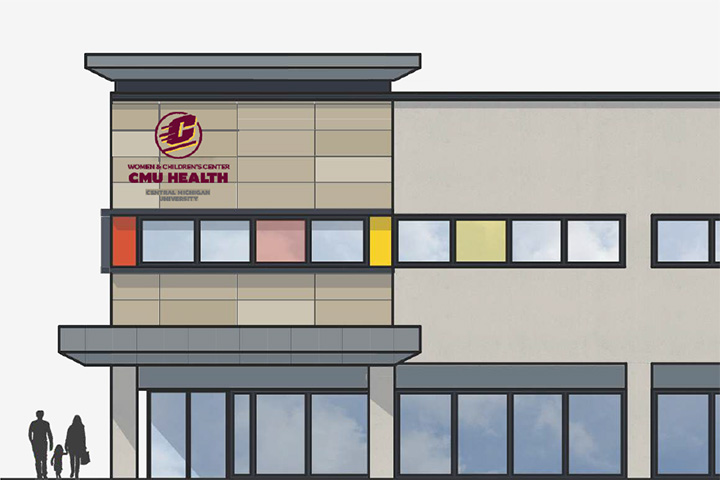 Improving Health Through Education in the Region

Medical schools and teaching hospitals play a significant role in improving the nation's health. Central Michigan University College of Medicine's residency programs are led by CMU Medical Education Partners, a partnership that includes Central Michigan University, Covenant HealthCare and Ascension St. Mary's Hospital. Collectively known as an academic medical center, these institutions work together to provide high-caliber physicians who care for patients and educate the next generation of physicians.

CMU Medical Education Partners has a fully accredited obstetrics/gynecology residency program offering a full range of general services to women of all ages. Physicians and residents care for women through their entire pregnancies and at all stages of their lives, providing routine care as well as treating complex obstetric and gynecologic conditions. In addition, the newly established pediatrics residency program that started in July of 2022, will help address the region's pediatrician shortage and boost the educational and clinical impact of the CMU Health Women and Children Center. As the only community in central or northern Michigan with both an obstetrics/gynecological residency and a pediatric residency program, CMU Health clinics are committed to the care of women and children in the region.

"The CMU Health Women and Children's Center will provide excellent patient care and at the same time help to address the physician shortage while also addressing the community's most significant public health concerns. We are continuing to 'improve health through education,'" said Dr. Samuel Shaheen, president and CEO of CMU Medical Education Partners.

Covenant HealthCare is a regional healthcare system with a broad provider network. As the hospital home for the CMU Pediatric Residency Program, Covenant has a unique acute care setting for providers to learn and grow. Covenant is a proud member of the Children's Hospital Association and home to the region's only pediatric intensive care unit. The Covenant Team also supports a longstanding Childbirth Center, Level III Regional Neonatal Intensive Care Unit, Level II Trauma Center for Adults and Pediatrics, and a variety of pediatric subspecialties and services.

"Alongside our providers and local organizations, we take maternal health and the health of our youth seriously. We want to ensure our community's moms and children get the care they need for generations to come," said Beth Charlton, president and CEO of Covenant HealthCare. "We appreciate what CMU Health is doing to improve health care in our region and are proud to be a partner."