The CMU Health difference
CMU Medical Education Partners receives approval for new pediatric residency program
by User Not Found
CMU will accept the first class of resident physicians in July 2022.
Central Michigan University Medical Education Partners received approval on Oct. 5, 2021, from the Accreditation Council for Graduate Medical Education to establish a new pediatric residency program.
CMU will accept the first class of resident physicians in July 2022.
The pediatric residency program will educate graduating medical students who aspire to become pediatricians and allow for greater access to ambulatory specialty care, thanks to the CMU College of Medicine's affiliation with University Pediatricians in Detroit.
As the primary inpatient clinical site, Covenant HealthCare provides specialized services focused on the pediatric population providing an exceptional and diverse learning environment for the new residents. The Saginaw, Michigan-based health system offers a regional pediatric intensive care and pediatric unit, an American College of Surgeons verified level II pediatric trauma center and a wide breadth of extensive clinical programs for children.
"The building out of pediatric graduate medical education creates a pipeline of providers, which is currently needed to fill a shortfall of more than 24 pediatricians," said Dr. Samuel Shaheen, executive director of CMU Medical Education Partners. "In addition, the educational and clinical requirements of the program will increase the breadth of care delivered."
The CMU College of Medicine was established to address local and national physician shortages. Beginning with the inaugural class of 2017, approximately 500 physicians have graduated from the CMU College of Medicine. Of the graduating class in 2021, more than 60% entered primary care residencies, and nearly 50% remained in Michigan. The CMU College of Medicine prepares diverse, culturally competent physicians to improve access to high-quality health care, especially in medically underserved populations. 
"This is yet another example of the growth of our educational programs supporting our mission and filling the gap for well-needed clinical services in our community," said Dr. George E. Kikano, CMU vice president for health affairs and dean of the CMU College of Medicine.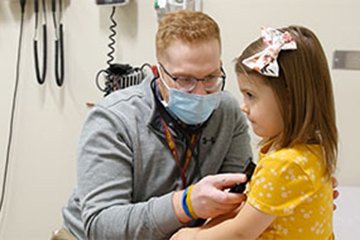 Dr. Roland Chu, director of the Pediatric Residency Program, and Dr. Katherine Battisti, assistant director, designed the new residency program to provide a new model for training future pediatricians. After working with College of Medicine faculty members to shape priorities for the new program, Drs. Chu and Battisti now are collaborating with physician leaders to prepare for the first class of residents.
"The excitement and support of this new residency program by community physicians, Covenant HealthCare and CMU Partners has been amazing," Chu said. "Designing a training program to attract quality applicants requires tremendous support from the hospital system and the CMU faculty. I think having a residency program will only augment and build more pediatric services for this community. I am excited to have our first batch of residents next year."
"Covenant HealthCare, in collaboration with CMU Partners, has been providing excellent care to pediatric patients in the Great Lakes Bay Region for a long time. The pediatricians and specialists are experienced educators of current residents and medical students in the region," Battisti said. "We are incredibly excited to be building on this legacy with the addition of our new program and look forward to contributing to the improvement of pediatric health in our region."
CMU Medical Education Partners initially was established as Saginaw Cooperative Hospitals in 1968 as a consortium to educate physicians in a variety of residencies. CMU Medical Education Partners is jointly governed by Ascension St. Mary's Hospital, Covenant HealthCare and Central Michigan University. CMU Medical Education Partners also offers residencies in emergency medicine, family medicine, general surgery, internal medicine, obstetrics and gynecology, podiatric medicine and surgery, and psychiatry, with fellowships in child and adolescent psychiatry and emergency medical services.
For more information, visit the Pediatric Residency Program website or call 989-746-7673.