The CMU Health difference
Learning on medicine's front lines
by Sanjna Jassi
CMU physician and faculty member Dr. Asim Kichloo is a relentless researcher of COVID-19, with numerous published case reports and articles and more in the works.
When COVID-19 came to Michigan, it met a determined foe from Central Michigan University: Dr. Asim Kichloo.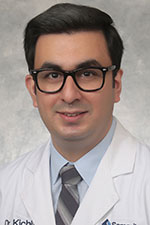 As a hospital physician, he's one of the first to describe cases of the illness in combination with other conditions such as kidney disease, Epstein-Barr virus, lupus pneumonitis, heart arrhythmia, hypercoagulability (abnormal blood clotting) and an inflammatory syndrome known as HLH.
As a relentless researcher, he's the lead author on nine published case reports and articles on COVID-19 so far, with more in the works.
"My main attention is on understanding this disease more," he said. "Research is my passion."
That research includes:
COVID-19 case reports that address correlation with other disease processes.
A proposed book chapter on therapeutic drug management of COVID-19.
A study on protocols for handling the bodies of COVID-19 victims.
An exploration of COVID-19 and telemedicine.
A study of similarities between lung damage from COVID-19 and from vaping.
A study of how the disease affects patients' psyches.
All told, he expects to complete 15 COVID-related projects by year's end, a number he says is on the higher end of the spectrum for academic publishing.
"It is always a team effort. It is never just me. And the team is CMU." — Dr. Asim Kichloo, COVID-19 researcher
Kichloo said with a new disease, practically everything is in an experimental stage.
For example, steroids were not a standard treatment for COVID patients back in April, but Kichloo and his colleagues found them effective for treating a COVID patient who also had lupus. In this situation and others, they wrote up case reports to share their findings with the medical community.
"We were the first ones to diagnose these and connect the dots," he said. "All these basic questions that were not answered or even raised, we raised them."
Taking the lead
Kichloo, who joined CMU four years ago, is a doctor of internal medicine at Ascension St. Mary's Hospital in Saginaw, Michigan. He's an associate professor and the clerkship director for CMU's College of Medicine. He also was on the front lines when COVID-19 cases began to surge in mid-Michigan nursing homes in March.
"I saw only COVID patients every day and every weekend," he said.
He and his lab team began to study how the illness affected patients with other conditions, knowing that what they learned could point the way to more effective treatments.
"We are doing all we can to understand and treat it based on the best possible limited evidence. Somebody has to take the lead, and if it is me, it is me."
'The team is CMU'
Kichloo is quick to add it is not him alone.
"It is always a team effort. It is never just me," he said. "And the team is CMU."
Kichloo said the CMU medical students and residents he leads in the lab tirelessly push the boundaries of knowledge about the disease.
"They want to do something to engage, to work for the betterment of patients," he said. "They find the time beyond their rotations, beyond their examinations, beyond their classes.
"I am the lab team lead, but I am nothing without my team."
Saginaw native and fourth-year CMU medical student Michael Albosta is a member of that team who co-authored several of Kichloo's publications. He began researching with Kichloo a year ago, pre-pandemic, though he said it's not officially part of his coursework.
"Dr. Kichloo has been a huge proponent of students getting involved in research," he said. "It's not required, but it's absolutely beneficial."
Fighting against COVID-19
Here are a few examples of CMU faculty addressing COVID-19 in their work and research:
Expert sources for media