The CMU Health difference
Medical residency program fuels Saginaw-area growth
by Sanjay Gupta
CMU's College of Medicine residency program graduates are making an impact on the Saginaw area.
Imagine the Saginaw, Michigan, area if a Central Michigan University College of Medicine and its affiliated CMU Medical Education Partners residency program didn't exist.
Trusted family doctors, surgeons or specialists might be many miles away, making them more inconvenient for many, inaccessible for some.
Fortunately for those in the region, medical visionaries formed the area's first such program in 1947, later transitioning that leadership to CMU. To date, more than 800 physicians have completed their specialty training in Saginaw residency programs, with an estimated 200 of them choosing to stay and practice in the Great Lakes Bay Region.
Another seven residents from this year's graduating class of 33 have joined them after the June 14 graduation.
"We are proud to be a leader in meeting the medical needs of the growing Great Lakes Bay Region by educating students, training residents and caring for the community," said Dr. George Kikano, dean of CMU's College of Medicine.
"The College of Medicine remains fixed on its mission of preparing physicians who are focused on improving access to high-quality health care in Michigan with an emphasis on underserved populations."
CMU Medical Education Partners is supported by Covenant HealthCare and Ascension St. Mary's Hospital.
New graduate: Love for community
Two of the seven new residency graduates who have chosen to call the Saginaw area home are Jennifer Romeu from Miami, Florida, and Eric Pitts, from Pigeon, Michigan.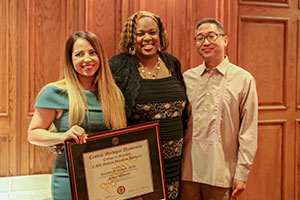 Romeu will practice family medicine with CMU Health at the Colony and Concentric primary care clinics in Saginaw Township.
Some Michiganders might expect a Floridian to hustle back south after graduation, but Romeu's time spent in Saginaw during clinical rotations got her thinking it was a place she could call home.
"I got to know and really like the community of Saginaw, and Michigan itself," she said.
Her residency experience with the CMU Family Medicine Residency Program sealed the deal.
"They take a community learning approach to family medicine, teaching all the sub-specialties," she said. "I never felt that I wasn't a team member."
Community is important to Romeu.
"I had the opportunity to move, but I truly love working with the people in Saginaw," she said. "They have an immense pride in their community and have been very welcoming to me."
New graduate: Close to family
Pitts, a new emergency medicine doctor, chose to stay in the area to be close to his family in the Flint area.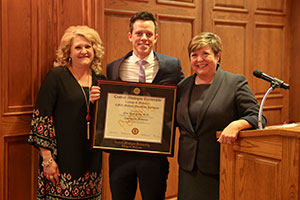 The Michigan State University medical school graduate ended up at CMU's residency program because a medical school friend, a Covenant HealthCare doctor, told him of CMU's Emergency Medicine Residency Program.
It was his last residency interview of the year — and the best, he said.
"I was impressed with the overall program: what it stood for, its support in the community and the push for community service from its residents."
He also liked that it serves a diverse population, stretching from the Upper Peninsula to the mid-Michigan area.
The residency experience came with a few surprises for Pitts.
"Now you are dealing with life-and-death situations," he said. "Although you have the attending physician there to supervise, it's still more scary than reading about it in a book. But the program did a good job of smoothing that transition from medical school life to residency life."
Another surprise was the support of the residents, not only in his education, but also in his personal life.
"I had quite a bit of family loss in my intern year and my second year: grandparents, uncles and father. The program was really supportive. I had faculty text me to make sure that I was doing OK and asking if I needed anything.
"I feel that is a rare thing to find in a program."
His goal is to continue working in the Covenant emergency department and eventually become a faculty member in CMU's emergency medicine residency program.
Training and practicing
Dr. Thomas J. Veverka completed his residency in Saginaw in 1992 and returned to practice after a year's surgical critical care fellowship in Minnesota. He is past president of the Saginaw County Medical Society and a current board member of the Michigan State Medical Society.
"Having residency training programs makes Saginaw much more attractive to quality physicians who like to teach, making recruitment more fruitful. And, of course, residents who train in Saginaw are more likely to stay and practice in Saginaw. I am living proof of this."
Dr. Samuel Shaheen, executive director of CMU Medical Education Partners, said the positive impact of having medical and resident training in Saginaw can't be overstated.
"Because of our efforts, doctors are educated, patients are cared for, and partnerships on health and wellness flourish. We are improving the health of our communities through education."