The CMU Health difference
CMU drives mental health effort in region
by Sanjay Gupta
CMU's College of Medicine leads the charge to improve mental health resources in the Great Lakes Bay Region
Five years ago, leaders of Central Michigan University's young College of Medicine saw a need for mental health services in mid-Michigan's Great Lakes Bay Region and started a psychiatry residency program to train and retain physicians to improve access to care.
The first such program in Michigan north of Flint. Four psychiatry residents per year. A limited number of supervising physicians.
Over the years, the fully accredited program — a collaboration with Ascension St. Mary, Covenant Healthcare and HealthSource in Saginaw — has doubled the number of residents per year. Five of the eight graduates so far are calling the region their home, and CMU Partners and CMU Health have recruited 12 physicians to provide the well-needed services to the public and to teach medical students and resident physicians.
In short, the CMU College of Medicine, with its Partners organization, has become a leader in the region for providing mental health services and in training a workforce for other healthcare systems.
"We are supporting education and training for mental health providers because of the great need for psychiatrists and mental health services in the region, which aligns with our mission," said Dr. George Kikano, vice dean for health affairs and dean of the College of Medicine.
"The gap between need and care is enormous."
And it spans the state.
A recent study by Altarum a nonprofit health care consulting institute based in Ann Arbor, Michigan, reports that more than 666,000 people in Michigan with mental illness do not receive treatment.
The area with the greatest unmet need for mental health care, at 44.9 percent, is central Michigan. The study considers the Great Lakes Bay Region as comprising Isabella, Midland, Saginaw, Bay, Arenac, Gladwin, Clare and Gratiot counties. (See map below.)
The College of Medicine's investment in a psychiatry residency program was the first in a number of initiatives that has made it a leader in the effort to improve mental health services in the region. Here are some key programs and partners: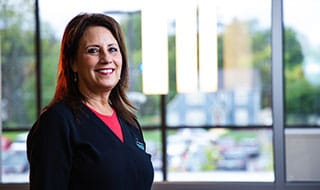 Barb Smith Suicide Resource and Response Network
Mission: Group support for people who have lost a loved one to suicide, and to promote suicide awareness and education in the community.
Location: In Saginaw and housed at the College of Medicine.
Origin: Started and fueled by Barb Smith's passion to help others after her brother's suicide.
'A purpose for my pain'
The Saginaw-based Barb Smith Suicide Resource and Response Network offers group support for people who have lost a loved one to suicide and promotes suicide awareness and education in the community.
Smith's passion comes from experiencing suicide in her own family. Her brother died by suicide in 1979, when there were few services available to those considering suicide, she said. She has since lost a sister-in-law and friends to suicide.
"That's when it started, trying to find purpose for my pain."
She steered her grief into a passion to learn about suicide and suicide prevention to help others. She became certified in suicide prevention, intervention and aftercare.
Kikano became aware of her efforts three years ago and gave her office space in the college's Saginaw, Michigan, location. He has since supported the network's efforts to secure two grants to expand her services and train CMU medical students and the region's health care providers on how to increase awareness of early signs of depression and assess a person's potential need for suicide prevention counseling.
Smith now has a staff of three and is involved in statewide suicide awareness education efforts, including training more than 400 medical students, many health care providers, public school employees and other public and private entities throughout the region.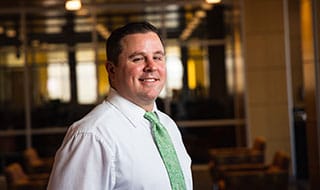 Great Lakes Bay Region Mental Health Partnership
Vision: Ensure that everyone struggling with mental health issues knows where to get help, can seek it without fear of stigma, and has access to prompt, excellent care.
Origin: Started by friends and family of a suicide victim.
Activity: The partnership is pulling together stakeholders from across the region to build a network to realize its mission.
Partnerships proving effective
The Great Lakes Bay Region Mental Health Partnership began in June 2018, the outcome of an effort by the family and friends of Chad William Dunn, who died by suicide in 2013 as a result of mental illness.
It collaborates with many of the region's health care providers, businesses, schools, political leaders, nonprofits and others who share its vision.
The partnership has had some important early successes. This spring, it worked with an area civil contractor to promote its employee assistance program and to emphasize mental health. Within 24 hours of a company meeting that included a focus on mental health, workers had already reached out to area mental health providers, the company president said.
Other successes include Saginaw Valley State University adding a psychiatric nurse practitioner credential to its offerings, and the partnership's youth information group starting a mental health awareness campaign that included the use of a crisis text line.
"If we can really address stigma, where people can feel OK to talk about mental health issues, that would be a huge win," said Matt Samocki, executive director.
The College of Medicine, where the partnership is based, is a key supporter of the partnership, along with the University of Michigan Depression Center and The Dow Chemical Company Foundation.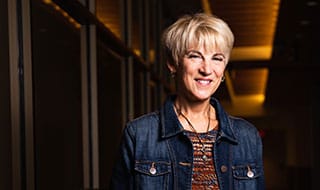 Interdisciplinary Center for Community Health and Wellness
Mission: Bring trauma-informed expertise into agencies, recovery programs, hospitals and other providers.
Location: CMU's College of Medicine.
Activity: The center is educating the public on how adverse childhood experiences negatively affect a person's mental health throughout their lives.
Awareness, then prevention and change
Alison Arnold, a College of Medicine staff member and director of the Interdisciplinary Center for Community Health and Wellness, is focused on spreading the word about adverse childhood experiences, or ACEs, and their deep-seated effect on people's mental health.
The center educates school employees, health care providers, parent groups, counselors and others on how toxic and continual stressful experiences, especially those that happen in our formative years, leave lasting traumatic scars on our minds and bodies.
Examples are domestic violence, substance abuse, neglect, bullying — anything that creates a constant or repetitive fight-or-flight response in a person.
After awareness comes the push for prevention and change.
She is working with groups like the area's Great Start Collaboratives, which encourage skill-building and education on how to provide a safe and mentoring environment.
The College of Medicine and the center are partnering with the Michigan Health Improvement Alliance to be a hub in the region for professional development and resources to bring trauma-informed expertise into agencies, recovery programs, hospitals and other providers.
"That means that all of us in the network will be thinking about how we deliver our services and work together to help these children," she said.
The Interdisciplinary Center is a partnership with five CMU colleges: Medicine, Education and Human Services, Liberal Arts and Social Sciences, the Arts and Media, and The Herbert H. and Grace A. Dow College of Health Professions.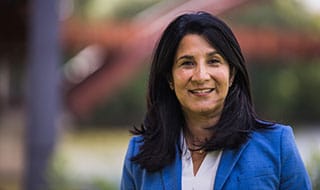 CMU's psychiatry residency program
Mission: Train the growing number of medical resident physicians in psychiatry.
Location: Saginaw.
Activity: Has expanded inpatient services, added outpatient services and is adding specialized services, such as child psychiatry programs.
Residencies become home
The College of Medicine and CMU Health, in collaboration with local hospitals and HealthSource, have built a presence in Saginaw by forming partnerships with the region's behavioral health organizations and hospitals and creating residency training sites for them, said Dr. Furhut Janssen, director of the college's psychiatry residency program and the Child and Adolescent Psychiatry Fellowship.
In the process, the area has become a home for five of the program's 12 graduates of its first three classes: Two are in Midland, two in Saginaw and one in Bay City. Other residency graduates have remained in the state in other underserved areas.
"While that is amazing," Janssen said, "we anticipate growing the program even farther across the region and north into areas where specialized psychiatric care doesn't yet exist."
The psychiatry program has continued rapid growth. In addition to expanding inpatient services, it has added outpatient services and is adding specialized services. A child and adolescent psychiatry fellowship program has been started recently, enhancing inpatient programs and expanding outpatient child psychiatry programs.
It also has added two geriatric psychiatry physicians and a geriatric psychiatry unit.
On the drawing board are interventional psychiatry treatment services, such as electroconvulsive therapy and trans-magnetic stimulation.
Janssen attributes the psychiatry residency's growth to Dr. George Kikano, a family physician who is dean of the College of Medicine; Mary Jo Wagner, an emergency medicine physician who is chief academic officer at CMU Partners; and Samuel Shaheen, a surgeon who is the executive director of CMU Partners.
"We have these three leaders who understand that to train physicians to treat a patient in any specialty requires an investment in psychiatry and mental health. It's because of them that we have this momentum," Janssen said.
"And more great things are to come for the people of this region."