The CMU Health difference
College of Medicine associate dean key player in release of new national diabetes guidelines
by Aaron Mills
S. Sethu K Reddy, M.D., CMU College of Medicine senior associate dean for research and president of the American Association of Clinical Endocrinology is an author of the new national guideline for the care and management of people with or at risk of diabetes.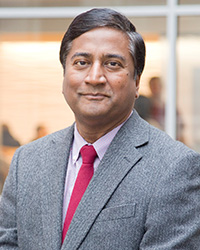 Released in late September, the guideline features 170 updated and new evidence-based clinical practice recommendations for diabetes at every stage, including prevention, diagnosis, and treatment.
"The guideline is framed to support person-centered, team-based clinical decision-making, which importantly puts the patient at the center to improve care for people with prediabetes and diabetes," said Reddy in the AACE news release announcing the new guideline.
The 2022 guideline addresses a variety of new topics related to the management of diabetes, including COVID-19 vaccination, telehealth, social determinants of health, male and female infertility, secondary diabetes, and nutritional supplements. Additionally, the 2022 guideline includes expanded sections on the management of hyperglycemia in the hospital setting and hypoglycemia, quality of life recommendations on sleep hygiene and depression, and updated safety-oriented recommendations on occupational risk and risk of cancer.
To learn more, watch an interview Dr. Reddy conducted with PatientCare Online, a digital source for information about primary care medicine.