The CMU Health difference
New partnership for pediatrics
by Sanjay Gupta
Central Michigan University College of Medicine signed a five-year affiliation agreement with Detroit-based University Pediatricians.
A new five-year affiliation agreement between Central Michigan University College of Medicine and University Pediatricians will provide new opportunities for medical education, training and research in pediatrics.
The agreement, signed today by leaders from both organizations in a ceremony at CMU's downtown Detroit office, supports the College of Medicine's mission to train culturally competent physicians to provide comprehensive health care to underserved populations in Michigan and beyond.
University Pediatricians, based at Children's Hospital of Michigan in Detroit, is a large group of pediatric specialists employing 225 physicians.
The partnership allows the addition of pediatrics as a fourth discipline to the CMU College of Medicine's medical specialty training programs.
Dr. Kathleen Meert will serve as the new chair of pediatrics at CMU College of Medicine and oversee pediatric clinical education. Meert is chief of the pediatric critical care division at Children's Hospital of Michigan.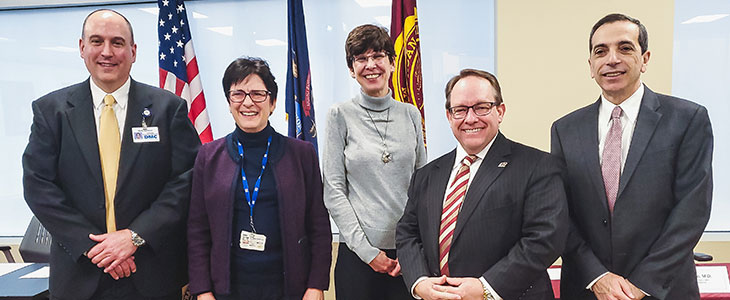 "This partnership is a direct connection with our College of Medicine but also builds upon CMU's national reputation as a leading research institution and enhances opportunities for us to provide critical health care to underserved populations," said CMU President Bob Davies. "It also will bolster several of CMU's academic programs, particularly in the sciences."
Taking research to the next level
CMU's College of Medicine Dean Dr. George Kikano said the agreement also adds clinical research in pediatric medicine to the university's research portfolio, providing extensive opportunities for faculty and students.
University Pediatricians will collaborate with College of Medicine faculty to obtain grant funding that will advance clinical and translational research to improve the care of children in Michigan and beyond.
"The affiliation with University Pediatricians creates an infrastructure to support pediatric research and scholarly activity at CMU, not only for medical faculty but to faculty across the university," Kikano said.
Dr. Mary Lu Angelilli, president of University Pediatricians, said dedication to teaching medical students and doctors who specialize in pediatrics, combined with a commitment to medical research, make doctors in their organization unique.
"More than half of the doctors in the group are scientists participating in various types of medical research," she said. "It is important that we are part of a medical school and practice that values education and scientific endeavors to ensure patients receive the most up-to-date and safe care available."
She said the CMU College of Medicine and University Pediatricians are ready to build together and learn from each other.
"We are looking forward to a relationship built on integrity, transparency and alignment of our goals," she said.
Building on an existing partnership
CMU first affiliated with University Pediatricians in early 2019, and CMU medical students have been completing rotations supervised by University Pediatricians physicians at Children's Hospital of Michigan.
In August 2019, the state of Michigan appointed CMU to administer University Pediatricians' Medicaid enhancement funding, which is used to subsidize access to medical care for low-income individuals and families.